!link rel="shortcut icon" href="/favicon.ico" />
Mid-West Truck Accessories
Welcome to the Mid-West Truck Accessories website. We specialize in the TRUCK / SUV / CUV / JEEP automotive aftermarket and are passionate about the accessory business. Our commitment is to provide you, our customer, with a great experience during and after the sales process.

Don't be fooled by the claims of many truck accessory stores and websites stating they have 200,000+ items in stock. Most of these companies special order everything from a distributor when they receive an order. Mid-West Truck Accessories purchases our primary products directly from the manufacturer. This provides you quicker delivery, quality tested products and lower prices.
CargoGlide CG1800HD Cargo Slide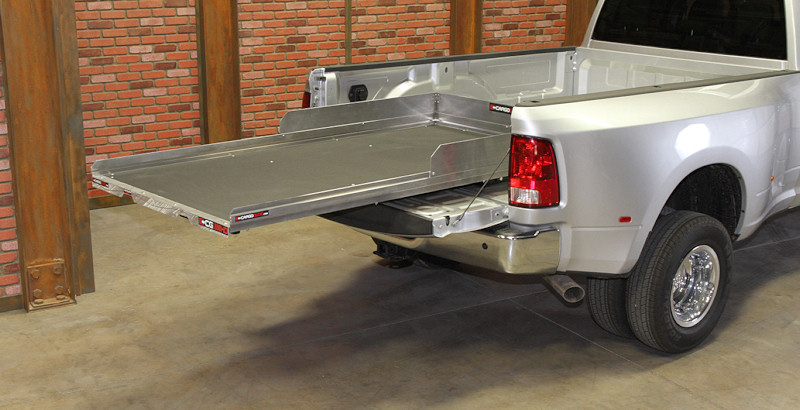 CargoGlide CG1800HD Cargo Slide
A Cargoglide HD model is built for intense industrial demands. Our Heavy Duty design with Recessed Handles and wide deck space allow the user to utilize the most storage area possible. Side Thrust Bearings keep the frame operating smoothly when your vehicle is parked off-camber
Always check for clearances under the truck and van bed before drilling. Measure for tailgates with accessories and tailgates that do lay flat. The unit may need a spacer kit to clear the tailgate during operation.
Specifications
---
Aluminum, Steel and Diamond Plate Deck Available
1,800lbs Capacity
Preassembled for 30-Minute Installation
6 Cam Follower Needle and Sealed Ball Bearings
65-75% Extension
USA Steel Frame
Side Thrust Bearings for Smooth Operation While Vehicle is Tilted
Full Perimeter Tie Down Track
Industrial Laminated 3/4" Marine Grade Plywood
Heavy Duty Tie Downs Included
Standard Install Kit Included, (Aluminum bed install kit NOT included)
Features
---
CATEGORY: CG HD Series
UNIT EXTENSION: 65% - 75%
LENGTH: 36" - 95"
DECK WIDTH: 24" - 48"
SIDE RAILS: 4" with 8" High Sides
WEIGHT: 190 - 255 lbs
CUSTOM SIZES AVAILABLE