!link rel="shortcut icon" href="/favicon.ico" />
Mid-West Truck Accessories
Welcome to the Mid-West Truck Accessories website. We specialize in the TRUCK / SUV / CUV / JEEP automotive aftermarket and are passionate about the accessory business. Our commitment is to provide you, our customer, with a great experience during and after the sales process.

Don't be fooled by the claims of many truck accessory stores and websites stating they have 200,000+ items in stock. Most of these companies special order everything from a distributor when they receive an order. Mid-West Truck Accessories purchases our primary products directly from the manufacturer. This provides you quicker delivery, quality tested products and lower prices.
Luverne Running Boards and Side Steps
Grip Step 7" Running Boards
LUVERNE Grip Step™ running boards are ideal for cargo vans and work trucks alike. Their 7" wide expanded aluminum treads provide excellent traction and safety, even in muddy, rainy or snowy conditions. The running boards are protected in a durable black powder coat.
Get A Quote For Luverne Grip Step Running Board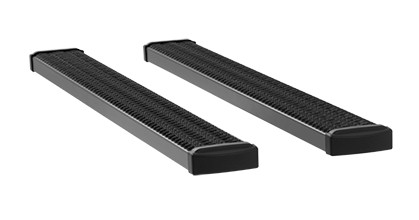 Side Entry Steps
LUVERNE Side Entry Steps for trucks feature a classic design that contours to the rocker panels for a seamless look. They have 5-1/2" wide non-skid step pads and are built from stainless steel for excellent corrosion resistance. These truck side steps are available in two finish options.
Get A Quote For Luverne Side Entry Step