!link rel="shortcut icon" href="/favicon.ico" />
Mid-West Truck Accessories
Welcome to the Mid-West Truck Accessories website. We specialize in the TRUCK / SUV / CUV / JEEP automotive aftermarket and are passionate about the accessory business. Our commitment is to provide you, our customer, with a great experience during and after the sales process.

Aries AeroTread® 5" Running Boards
Aries AeroTread 5" Running Boards
Stepping into the modern sport utility vehicle is safer and more stylish with AeroTread® SUV running boards. They are constructed with a lightweight aluminum base and feature two front trim finish options. The treads offer a sleek look and non-skid traction for a safe step.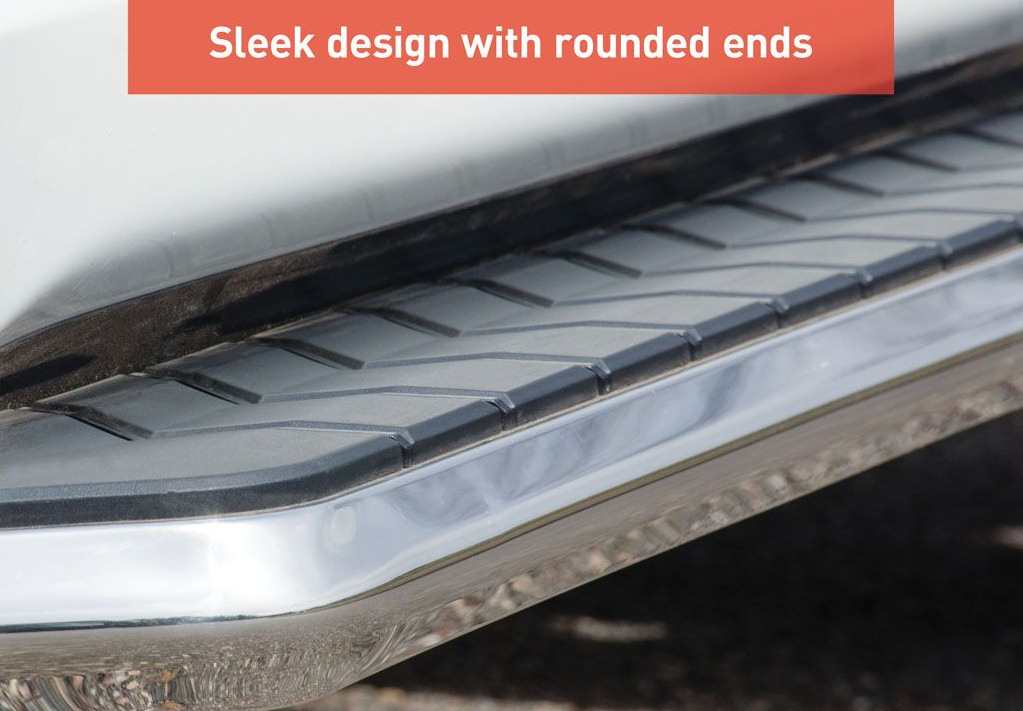 Description
---
Modern SUVs and crossovers are designed for versatility as much as they are for style. When it comes to choosing SUV running boards, you need something that's functional, durable and stylish. AeroTread® running boards are designed for just that, offering a full-length non-skid step, a highly non-corrosive construction and a sleek modern look to give your SUV or CUV the accent it deserves.
AeroTread® running boards combine function and style on every level. Rather than individual step pads, they feature textured treads that run the entire length of the boards. This provides safe, comfortable footing no matter where you step. The treads also have a sleek chevron pattern to increase traction, shed water and add a dynamic look.
Features
---
Sleek design with rounded ends to complement the look of modern SUVs and CUVs
Extruded aluminum base to be lightweight and rust-free
Polished stainless steel front trim piece for a distinct, rust-free accent
Flat profile and 5" width provide a comfortable step
Full-length, tough plastic treads offer a reliable, non-skid surface
Universal track mounting system for easy, secure installation
No-drill, vehicle-specific application for a custom fit
Heavy-duty steel mounting brackets for a solid step
Limited lifetime warranty (five-year finish, one-year parts)
AeroTread® running boards provide a 5" wide stepping surface on each side of the vehicle. They mount tight against the rocker panels, not only providing easier entry and exit but also helping to protect the sides of your crossover SUV from scuffs, nicks and scratches accumulated from road debris and gravel spray.

To easily outlast the elements and keep your SUV or CUV looking like new, AeroTread® running boards have a two-fold non-corrosive construction. They begin with an aluminum base. Underneath the treads is an extruded aluminum alloy platform that provides strength while remaining lightweight. The aluminum base will also never rust, ensuring long-lasting reliability.

Covering the aluminum base of each set of AeroTread® SUV running boards is a front trim pieces. This trim curves around the boards and tapers off at each end, allowing for a seamless, integrated look. The trim is constructed from stainless steel for excellent corrosion resistance. It is also available in two finish options, including polished stainless steel and carbide black powder-coated stainless steel. Two finish options allow you to select the exact look that best complements your crossover SUV.

AeroTread® running boards wouldn't be a truly stylish addition to your vehicle without their custom-fit installation. Each set is engineered for vehicle-specific application, meaning the boards use pre-existing mounting points to install with no drilling required. For every vehicle application, a unique length of boards and a unique set of brackets are used.

AeroTread® 5" running boards mount with no drilling required, and they use a track mounting system for precise positioning on the sides of the vehicle. The brackets are constructed from heavy-duty steel for enhanced rigidity, and they come with a co-cured black powder coat finish for long-lasting corrosion resistance.


*Prices may vary depending on truck model. Installation fees may apply.