!link rel="shortcut icon" href="/favicon.ico" />
Mid-West Truck Accessories
Welcome to the Mid-West Truck Accessories website. We specialize in the TRUCK / SUV / CUV / JEEP automotive aftermarket and are passionate about the accessory business. Our commitment is to provide you, our customer, with a great experience during and after the sales process.

BEDSLIDE 1500 Contractor Cargo Slide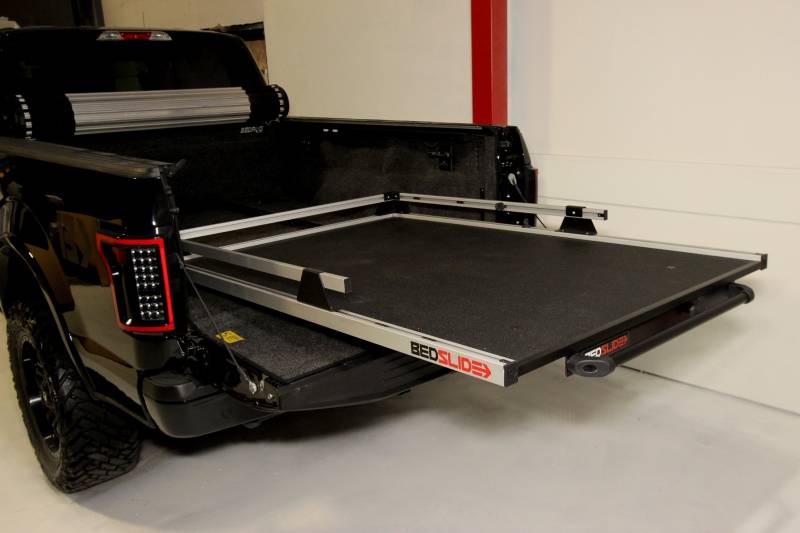 BEDSLIDE 1500 Contractor Cargo Slide
Whether you need an everyday workhorse on the job site or an efficient way to get all your gear to the campsite, the CONTRACTOR is the ultimate in heavy-duty cargo management. Built for professionals, sportsmen and outdoor enthusiasts, the BEDSLIDE has innovative features to make loading, transporting and accessing your equipment quick, simple and safe.
Turns your pickup bed into a giant 3/4 ton capacity drawer.
Reach anything safely from beside your tailgate.
BEDTRAX T-slots to organize and attach sport racks.
Made in the USA with 100% weather-resistant & heavy-duty materials
Description
---
Bearings: (2) 3282lb static rated Cam Follower bearings on load bearing end with (4) ball sealed roller bearings for guides
Decking: WEATHERDECK our exclusive composite light weight decking is durable in all elements. Includes (4) D-Ring Tie-downs
Extension: 3/4
Multiple locking positions for safety and convenience
Profile: 4.5"
Sizes in Length: 63" - 95"
Sizes in Width: 47" - 48"
GUARDRAILS: Included
Available in Black or Silver
Warranty: LIFETIME with registration
Weight capacity: 1500lbs (evenly distributed)


*Prices may vary depending on truck model. Installation fees may apply.