!link rel="shortcut icon" href="/favicon.ico" />
Mid-West Truck Accessories
Welcome to the Mid-West Truck Accessories website. We specialize in the TRUCK / SUV / CUV / JEEP automotive aftermarket and are passionate about the accessory business. Our commitment is to provide you, our customer, with a great experience during and after the sales process.

BEDSLIDE S Cargo Slide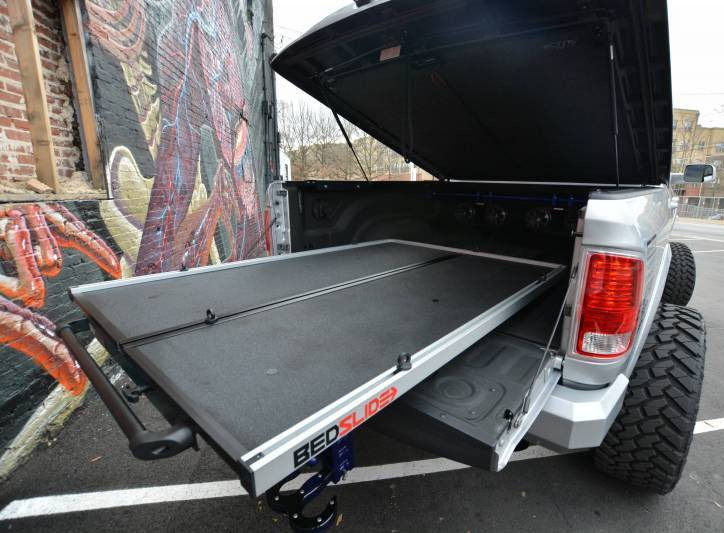 BEDSLIDE S Cargo Slide
The most versatile BEDSLIDE ever! It's BEDSLIDE your way. Start with the base 1000lb model and add only the accessories that fit your lifestyle - from TRAX RAILS to dividers. It's lightweight and easy to handle, yet robust to carry your payload. Available only in Silver. TRAXRAILS optional.
Turns your pickup bed into a giant 1/2 ton capacity drawer.
Reach anything safely from beside your tailgate.
BEDTRAX T-slots to organize and attach sport racks.
Made in the USA with 100% weather-resistant & heavy-duty materials
Description
---
Bearings: (2) 3282lb static rated Cam Follower bearings on load bearing end with (2) ball sealed roller bearings for guides.
Decking: Modular deck with center BEDTRAX & WEATHERDECK our exclusive composite light weight decking is durable in all elements. Includes (6) D-Ring Tie-downs
Extension: 3/4
Multiple locking positions for safety and convenience
Profile: 4.5"
Sizes in Length: 58" - 75"
Sizes in Width: 39" - 48"
TRAXRAILS: Not included
Available in Black or Silver
Warranty: LIFETIME with registration
Weight capacity: 1000lbs (evenly distributed)


*Prices may vary depending on truck model. Installation fees may apply.