!link rel="shortcut icon" href="/favicon.ico" />
Mid-West Truck Accessories
Welcome to the Mid-West Truck Accessories website. We specialize in the TRUCK / SUV / CUV / JEEP automotive aftermarket and are passionate about the accessory business. Our commitment is to provide you, our customer, with a great experience during and after the sales process.

LOMAX® Professional Series Tri-Fold Tonneau Cover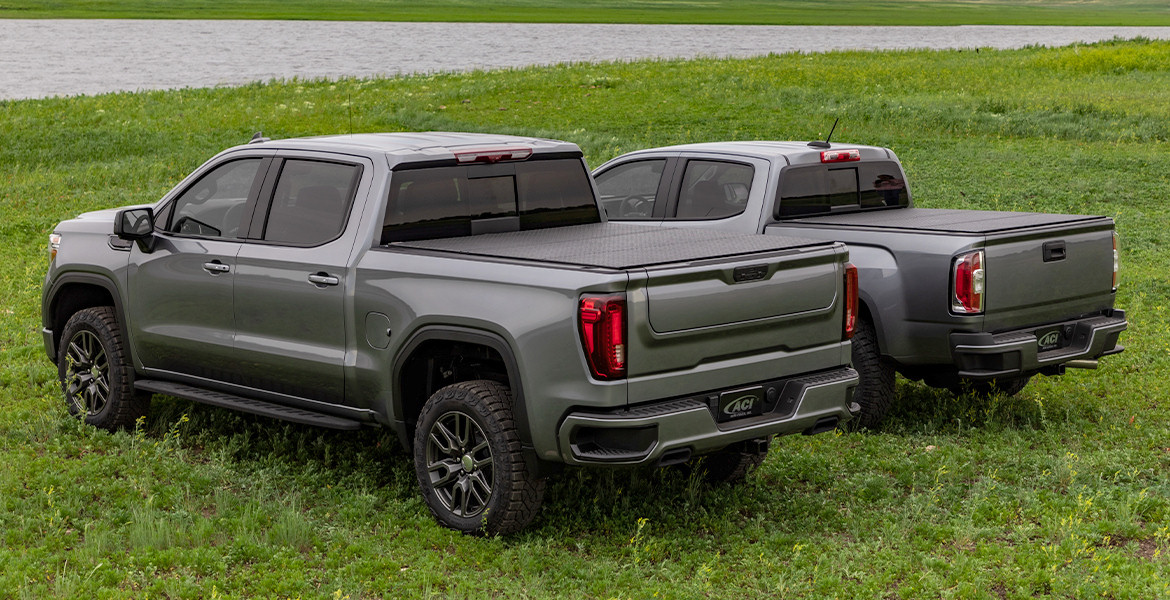 LOMAX® Professional Series Rugged Hard Tri-Fold Tonneau Cover
---
The LOMAX® Professional Series is anything but ordinary. A low profile design and superior protection redefine industrial versatility. Additional extruded aluminum channels increase the durability of each coated diamond plate panel, making LOMAX® Professional Series stronger with minimum added weight. Protect your gear with an automatic latching system while weathertight seals, durable hinges and a water-shedding design ensure your truck box remains dry without the need for gutters and drains. Complement your pickup with this unique hard tonneau cover and watch heads turn. One person can easily install, operate and remove this hard tri-fold cover. All the capabilities you need and expect, LOMAX® Professional Series is redefining rugged.
Now coated in Black Diamond Mist.
LOMAX® PRODUCT AND INSTALL VIDEOS
---
7 DISTINCT FEATURES
---

AUTOMATIC DUAL LOCKING SYSTEM
Release both locks simultaneously by pulling the cord from either side. Heavy duty nylon latches provide 1/2 in. surface for solid positive engagement.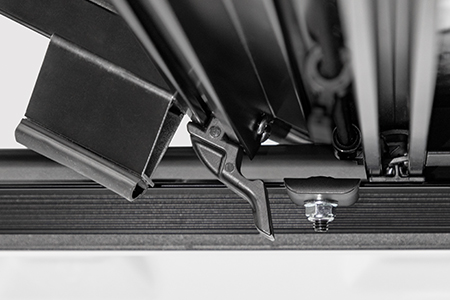 AUTOMATIC TEN POINT LOCKING
Unfolding each panel locks the cover automatically at ten points with heavy duty reinforced nylon components.

STRONG YET LIGHTWEIGHT
The LOMAX® Professional Series features additional aluminum channels under each panel. Extruded aluminum channels reinforce the panels to support up to 500 pounds of evenly dispersed weight, while weighing approximately 60 pounds for a high strength-to-weight ratio.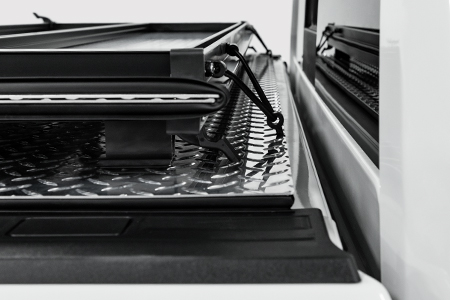 INTEGRATED STORAGE CLIPS
Retractable storage clips secure the truck bed cover and vinyl capped, rigid standoffs keep panels appropriately spaced in the folded position. No adjustments required.

SIMPLE REMOVAL AND REINSTALLATION
With tonneau cover open and storage clips secured, pull latches on front panel and disengage hooks by sliding cover back; lift to remove. Reinstall by sliding cover forward to engage hooks, then lower to automatically lock in retainment brackets.


*Prices may vary depending on truck model. Installation fees may apply.