!link rel="shortcut icon" href="/favicon.ico" />
Mid-West Truck Accessories
Welcome to the Mid-West Truck Accessories website. We specialize in the TRUCK / SUV / CUV / JEEP automotive aftermarket and are passionate about the accessory business. Our commitment is to provide you, our customer, with a great experience during and after the sales process.

TruXedo Elevate Rack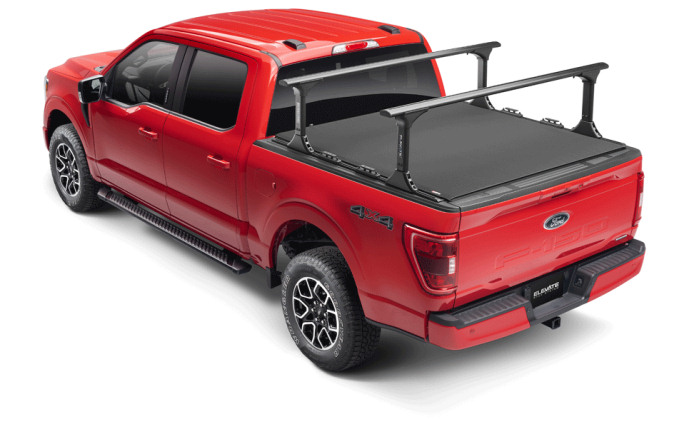 TruXedo Elevate Rack
Creating more storage options and overall cargo space for your pickup truck, the ELEVATE RACK will help deliver maximum fun and adventure for all. Be it soft or hard, rolling or folding, this unique truck rack allows for the installation and full utilization of many premium inside mount truck bed covers.
First, determine the right rack based on the truck type:
With a wider crossbar profile, the ELEVATE FS RACK can be paired with Full-Size trucks, Jeep Gladiator, Nissan Frontier and Toyota Tacoma
With a narrower crossbar profile, ELEVATE CS RACK can be paired with Ford Maverick, Ford Ranger, new Chevy Colorado and GMC Canyon
Next, determine the length of the truck bed and required rail length:
The ELEVATE TS RAILS are available in a variety of lengths to fit a multitude of truck beds
Features
---
Please note that if your truck bed cover comes equipped with an integrated T-Slot channel, simply slide the ELEVATE FS or CS RACK directly onto the truck bed cover rail. If your truck bed cover in not equipped with an integrated t-slot channel, you will need to purchase Elevate TS Rails in addition to the Elevate Rack. Already have a truck bed rack? Purchase just the TS Rails to make it compatible with your truck bed cover.
Elevate Rack is not compatible with Rambox, Honda Ridgeline or trucks equipped with OEM track systems. For a complete list of compatible trucks
Adjustable height of 18" or 28"
18" for easy access and lower profile look
28" when complete cab clearance is required
Robust engineered aluminum construction
750 lbs. static weight capacity (maximum load in fixed or stationary position)
500 lbs. on-road weight capacity
250 lbs. off-road weight capacity
Durable, textured powder-coat finish
Can be installed, adjusted or removed in minutes
Strong enough to carry baskets, bikes, kayaks, rooftop tents, ladders and more
Warranty
---
The Elevate Rack comes backed by a limited lifetime warranty, which warrants that all new products are free from defects in material and workmanship. This warranty is effective if the product is properly installed and used for the purpose intended and applies to the original buyer only. TruXedo, Inc.'s obligation under this warranty is limited to the repair, or at its option, replacement of any part returned, transportation prepaid, to TruXedo, Inc., Yankton, SD, if the product is, in our judgment, defective.


*Prices may vary depending on truck model. Installation fees may apply.