!link rel="shortcut icon" href="/favicon.ico" />
Mid-West Truck Accessories
Welcome to the Mid-West Truck Accessories website. We specialize in the TRUCK / SUV / CUV / JEEP automotive aftermarket and are passionate about the accessory business. Our commitment is to provide you, our customer, with a great experience during and after the sales process.


Lock Boxes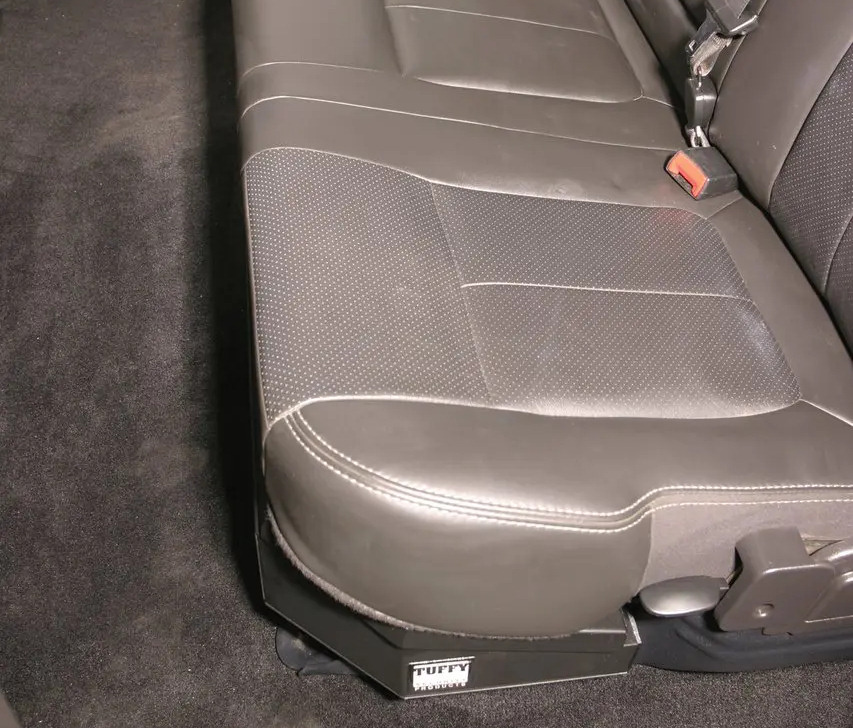 Underseat Lockbox
This high security 16 gauge steel security lockbox mounts under the rear seat. The full width formfitting design of the Tuffy lockbox has over 2170 cubic inches of lockable storage. It's secured contents are easily accessed by flipping either or both of the rear seat(s) up and opening the corresponding lid(s). The unique design allows the full width to be used to stow firearms or other long items. Featuring Tuffy's Pry-Guard Locking System with a 10 tumbler double bitted security lock with built in weather seals. Chamfered corners are incorporated into the design for easier passenger access. The innovative mounting system is only accessed from inside the box. Mounts inconspicuously under the seat out of apparent site of would be thieves.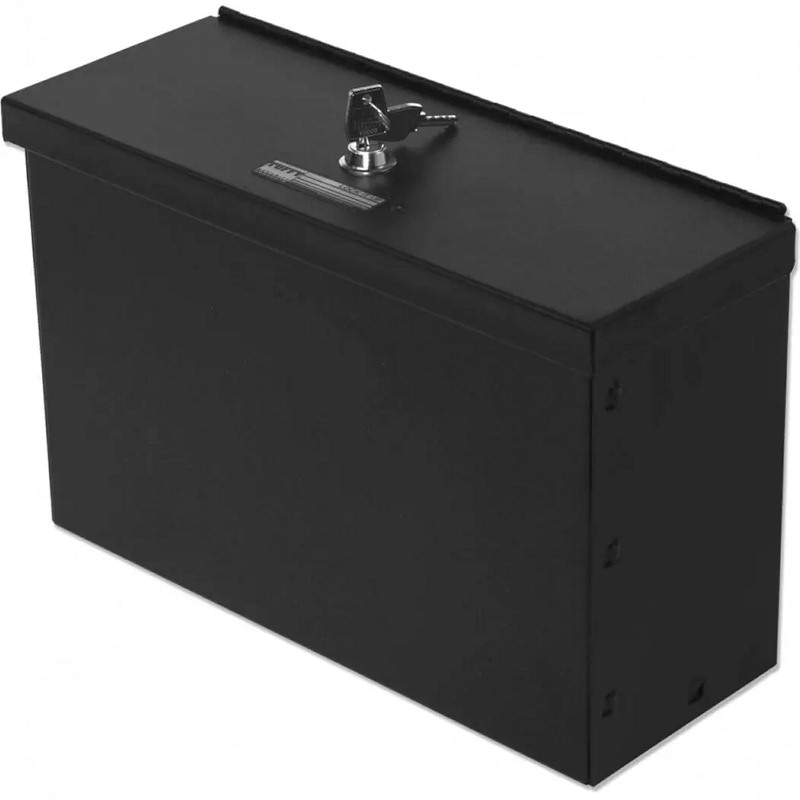 Universal Compact Security Lock Box
This 16 gauge steel storage box features the Pry-Guard Locking System and mounts anywhere there is available space. The Compact Security Lockbox is ideal for a CD Changer, tools, etc.
Pry-Guard locking system strengthened by a hemmed lid and 10 tumbler double bitted key
Grade 8 mounting hardware provided
Durable texture powder coat finish
Product can be mounted in any vehicle with sufficient space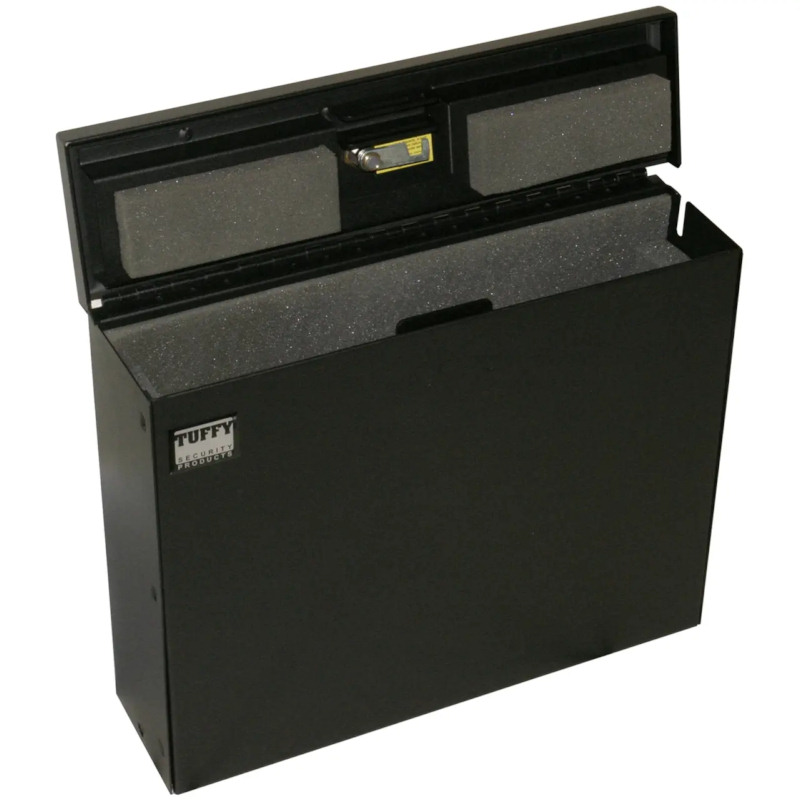 Universal Laptop Security Lock Box
The Tuffy Laptop lockbox is specifically designed to provide a secure and protected place to lock up portable computers. The 1 inch and 2 inch thick foam lining protects the contents from jarring and shifting during transport. Tuffy's exclusive Pry-Guard locking system provides the high security required to protect expensive computer equipment. The unique design incorporates an exclusive hinging system and welded steel construction. Grade 8 mounting hardware is included with mounting holes provided for bottom or back flush surface mounting so the lockbox can be mounted behind the rear seat in a pickup truck or virtually any other place it can fit. For maximum flexibility and ease of installation the lockbox can be secured to the vehicle by utilizing the unique padlock mounting point to secure it to the vehicle using a standard cable. (Padlock & cable not included) The lid is still locked with the cam lock on top not the padlock. In 2008, the number of reported laptop thefts rose 48 percent over 2007. source - FBI (National Crime Information Center) Aside from the obvious costs of replacing expensive laptop computers, one must also consider the potential exposure of sensitive information and the liability that stolen information creates.
Pry-Guard locking system with 1/8 inch thick steel welded components and 10 tumbler double bitted key
1 inch and 2 inch Thick foam lining
Strong hemmed lid (Double thickness)
Added security with Pin-Lock hinge design
Tab-Loc welded construction Mig and Tig
16 Gauge Steel
Universal Valuables Safe With Combination Lock
SKU: 289-089-01
Perfect for securing and transporting a handgun between the home, office and in a vehicle. The lockable welded steel storage box can be used to protect valuables both while carrying it by hand between locations and also inside a vehicle. The included mounting sleeve is securely bolted to the vehicle or any sturdy mounting surface. The security box slides into the mounting sleeve and can be locked in place. The security box can additionally be removed from the sleeve and can remain locked closed during hand transport. The system mounts anywhere there is available space and extra sleeves are available to allow the box to be secured in a sleeve mounted in the vehicle and also in the home or office. The inside is lined with carpet to protect the contents. Optional pick-n-pluck foam is available for additional custom sized protection around the valuables.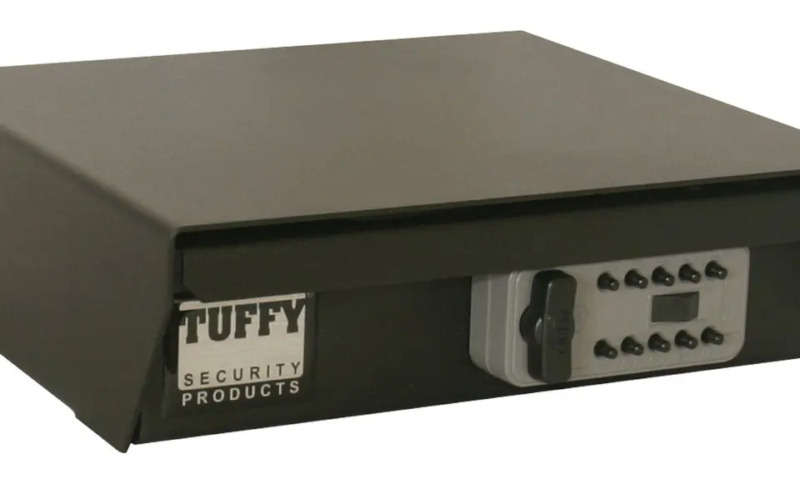 There are many Tuffy lock box models to choose from.
Please include truck details and lockbox type with your quote request


*Prices may vary depending on truck model. Installation fees may apply.